What Statutes Apply to HOAs?
There are three main categories of Arizona HOA statutes that govern homeowner associations (HOAs) and condominiums. They are as follows:
The Condominium Act. See ARS 33-1201 through ARS 33-1270.
The Planned Communities Act. See ARS 33-1801 through ARS 33-1818.
The Non-Profit Corporations Act. See ARS 10-2001 through ARS 10-2150 and ARS 10-
3101 through ARS 10-11702.
When do the Statutes Apply?
In all of the HOA statutes, it is important to note which ones trump an HOA's governing documents and which ones do not. Sometimes the HOA's rules in Arizona will actually trump the statute. To illustrate this point, consider the following example:
An HOA bylaws state that members may vote via proxy. The Condominium Act and the Planned Communities Act both say that proxy voting is no longer authorized "notwithstanding any provisions in the community documents." See ARS 33-1250 (for condos) and ARS 33-1812 (for planned communities). When the statute uses the language "notwithstanding" it means the statute is king and any conflicts in the governing documents do not apply.
Other statutes state something like "unless otherwise provided in the bylaws." When this language "unless otherwise" is used, it generally means the statute takes a side seat to the association's CC&Rs, Articles of Incorporation, Bylaws and/or Rules.
How to Apply Arizona HOA Statutes.
First and foremost, HOA attorneys get paid to keep up to date on all statutes. It is important that you use qualified legal counsel because the act of applying the statutes to the facts in your community and then spitting out a legal conclusion is generally the practice of law. You have to be a lawyer to engage in the practice of law.
That said, the first thing to do when trying to figure out a legal answer to a legal question is to do the following, in the following order:
Read the applicable provision in the Plat, CC&Rs, Articles of Incorporation, Bylaws or Rules. All of these together are called "governing documents."
Read the applicable provision in the Arizona Condominium Act, Arizona Planned Communities Act and/or the Arizona Non-Profit Corporation Act.
Read the applicable "case law." Case law is a group of Arizona Court of Appeals decisions that have been "published." They generally interpret a statute or other law and therefore create case law.
Determine whether the statute and case law trumps the governing documents.
If the statutes and case law do not trump the language in the governing documents, the governing documents apply.
As you can see, it can be very difficult to come to a good legal conclusion without knowing where to look and what cases could apply. This is why you pay attorneys who focus their practice area of HOA law.
Resources to Help You!
There are some resources out there. Statute books, statute apps, articles written by HOA attorneys. But, those resources can be difficult to understand. For example, how many times have you tried to find something in the book or app but couldn't find it because you don't know all of the statute numbers? Or you finally found what you were looking for but only after about 30 minutes of searching. Time is precious. We spent tens of thousands of dollars developing a great search engine for you to easily navigate the statutes. You don't need to know the statute numbers anymore. All you need to do is type in a keyword. For example, let's say a director on your board is wanting to deny a solar panel request. You know there is a statute on that but don't know the number. By going onto our search engine, all you need to do is to type in "solar panel" and the statute pulls up. You can search the statutes by visiting the following page: Arizona HOA Statutes Search Engine. When you type in solar panel it pulls the following results: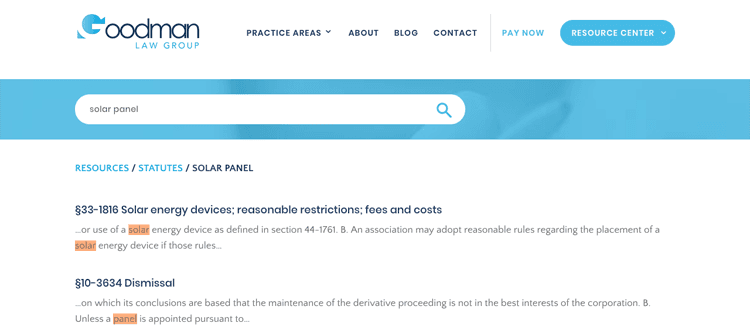 It is that easy! You can even save our search engine to your phone so it acts like an app! Please contact us today and we can help answer any of your questions or help you download the statute search on your phone.
Contact an Arizona HOA Lawyer for Further Help
At Goodman Law Group, our sole focus is on meeting the legal needs of HOAs, including creating and implementing HOA policy and responding to board member concerns. Whether you need an hoa lawyer in Phoenix, Glendale, Mesa or Prescott, we've got you covered. Contact us today to discuss any legal challenge your HOA is facing.